Germany for Beginners: Don't be afraid of a Culture Shock
Interview with our Alumna Abigail from the US (Part 2)
Part two of our interview is all about German culture. Our Carl Duisberg alumna Abigail gives tips on living in Germany and tells us what hurdles there are to overcome when living in Germany and why Germans go down to the basement to laugh. 😉
🥨 Dear Abigail, what is typically German for you?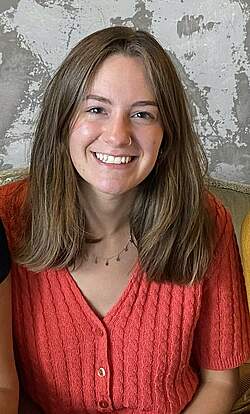 Some famous stereotypes are true😉
Germans are very direct, they say bluntly what they think or what bothers them. Also, German culture includes: German beer, German bread and often potatoes for dinner.
Breakfast: a typical German breakfast with freshly baked rolls and jam with Speisequark is so delicious! And in the afternoon: coffee and cake!
Separate garbage. For almost all materials, there are extra garbage cans with specific colors. In Cologne, for example, the paper garbage can is blue, the garbage can for plastic and packaging waste is yellow, and the garbage can for kitchen and organic waste is green.
Were there also typical prejudices that didn't come true?
Germans have a reputation for not being funny. There's this super funny German expression: "He goes to the basement to laugh". Just the idea is funny: "laughing in the basement".
But the idiom is not true. I've met a lot of humorous, funny Germans.
💡What is your tip for arriving and living in Germany?
Prepare yourself as best you can: not only for what you know will happen, but also for what you don't know. And realize that the unexpected and unplanned will happen and that it is okay.
The beginning is always hard - hang in there, the next good day is never far away. You will grow as a person and there will come a time when you notice all your work is paying off.
⚡Did you have a culture shock ?
Despite the good preparation: Yes, a bit. In Europe, people and things are simply different. Getting used to a new culture is exhausting. I slept a lot during the first two weeks. I had to process all the new impressions first. And of course there are always things that happen unexpectedly. But most of the time they resolve themselves quickly and the world keeps on turning and after every low comes a high. 🙂
I was surprised by the fact that Sundays are a day of rest, which means that all stores are closed. You have to plan for that. The food is also different (bread for breakfast, bread for dinner. Bread is important!) - but I got used to it and who doesn't love bread at every meal?
🤔What did you find difficult at the beginning?
Language was the biggest hurdle at the beginning, because language is the be-all and end-all. I couldn't really express my thoughts. My host mother frequently spoke to me in German and I couldn't really answer her the way I wanted to. I'm grateful she didn't speak English as it helped my German a lot. But it was very unusual not to be able to communicate the way I was used to. For a short time, it felt like suddenly I wasn't myself anymore: I enjoy making jokes and such - and suddenly that was no longer possible.
I also had to learn how to use transportation. In the beginning, I once took the wrong Straßenbahn and went in the wrong direction. Then my ticket was checked and the ticket inspector told me I was going the wrong way. Suddenly I was somewhere else. The designations on the tracks are not in English. At that time I didn't have internet on my cell phone and so I couldn't look it up.
But that's part of it in the beginning. You learn from your mistakes.
⭐What is the most valuable thing that you have learned during your stay here so far?
1. You not only get to know a new country better, but also yourself and your own country. I have become aware of my own cultural traits and values and have only realized what it means to be American since living in Germany.
2. In Germany, sustainability and recycling are very important. This idea of sustainability will certainly accompany me after my time here. For example, it's normal to bring your own coffee cup for coffee to go or to buy a sustainable, reusable cup for about 5€ extra instead of using 1x -cardboard cups. Recycling and sorting trash is very normal to me now.
3. You can get used to everything. Sure, it takes some getting used to living in a host family. As a young and independent adult, you're suddenly living under the same roof again with a family you hardly know. Of course, this is an adjustment. But like many things, it is a matter of getting used to it. Living with a host family helps you to understand German culture. You will have people to talk to who can help you and you will make social connections more quickly than if you live alone. I have wonderful memories from all my host family experiences that I wouldn't trade for anything.
🔍What was your first impression of Cologne?
Cologne is very green and there are many parks. Nevertheless, it is of course a city of millions, even if you sometimes feel like you're in a village, because everyone knows everyone and you get to know a lot of people in a short time. The city offers many opportunities.
My start in Germany was great. I arrived in the summer, so it was warm and therefore had a perfect transition from the Sunshine State. What was a little difficult at the beginning was that my host family was still on vacation, so I had to stay with another host mother for two weeks. So I had to settle in twice. But I was well taken care of and now I have two host moms from Cologne.
😀Which three words would you use to describe Cologne?
Cool: Cologne has no shortage of culture, lots of bars and clubs as well.
friendly: The people Cologne are more open than in other parts of Germany so I hear. I even had people strike up random conversations with me on public transport, which reminded me of living in the US.
historical: the city has a lot to offer historically, such as the Cologne Cathedral, the rings of the city and several fascinating museums.